The Wouff-Hong and Rettysnitch Legends
Amateur Radio's traditional and most sacred symbols
Two gruesome instruments of excruciating torture are used to enforce law, order, and decency in Amateur Radio operation.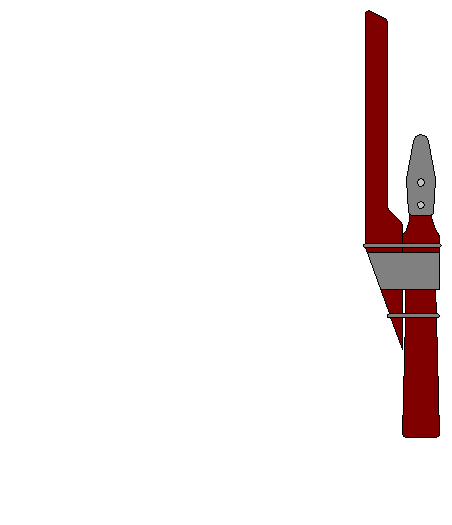 The Wouff-Hong and Rettysnitch Legends

By Rob L. Dey, KA2BEO1 - September 1997

A wonderful article about these two legends was written by L.B. Cebik, W4RNL2, and appeared in September 1996 QST, on pages 59 and 603. Cebik offered that "We should not be troubled by the size of the task at hand: Curing Amateur Radio of its illegalities and indecencies. We have many more folks available to wield the Wouff-Hong and the Rettysnitch. No, not on others, but on ourselves - to make sure that we set a model for how amateur operations ought to be conducted."
The Wouff-Hong

The Wouff-Hong is used to enforce law and order in Amateur Radio operating work.
"The Old Man" (T.O.M.), originator of the Wouff-Hong and the Rettysnitch, is known to be the one and only Hiram Percy Maxim, W1AW, founder of the American Radio Relay League (ARRL)4 in 1914. T.O.M. wrote his first mention of a Wouff-Hong and a Rettysnitch in 1917. In 1919, the league received an actual Wouff-Hong specimen directly from T.O.M. The first photo of the Wouff-Hong was published in July 1919 QST.
The Rettysnitch

The Rettysnitch is used to enforce decency in Amateur Radio operating work.
In 1921, the Washington DC Radio Club presented the Rettysnitch to the league's traffic manager. According to legend, the club received the Rettysnitch specimen from "The Old Man" himself. Cebik stated that "Even at its first public appearance, two of its teeth were missing, suggesting a long history of necessary and effective use. However, to this day, the Rettysnitch has lost no further teeth. It was ordered to be displayed by its mate." The Wouff-Hong and Rettysnitch stories were retold by Rufus P. Turner, when he wrote "Hamdom's Traditions: A Bedtime Story for Young Squirts" in May 1934 QST. According to Cebik, "In 1930, The ARRL Handbook had pictures of both instruments of enforcement. By 1936, only the Wouff-Hong appeared. By 1947 the Handbook had deleted both photos." An editorial on the Wouff-Hong (without the hyphen) appeared many years later in February 1961 QST. Presently, both of these legendary instruments are on display at the ARRL museum in Newington, CT.
Do the Wouff-Hong and Rettysnitch still hold their mystical power over us today?
L.B. Cebik, W4RNL, answered this question well, when he asked "Why were the Wouff-Hong and the Rettysnitch so powerful to those early hams? Because those hams cared about Amateur Radio in their hearts. They desired that which they knew they could never have: A perfectly law-abiding, decent radio service that would inspire young and old alike to become hams or, lacking the inclination to electronics, to become admirers of hams. Every minute of on-the-air time was a chance to show how noble a pursuit Amateur Radio was and should always be. They feared the Wouff-Hong and the Rettysnitch as instruments of their own consciences, as they strove to meet the standards they set for themselves. And that is where you will find the Wouff-Hong and the Rettysnitch today - deep in your own conscience. If they seem to hold no power, then you know itís time once more to elevate your standards a notch higher, and then to strive to achieve them perfectly." He added, "May you never deserve their sting."


1Rob L. Dey, KA2BEO, P.O. Box 1849, Point Pleasant, NJ 08742-1849, e-mail: rdey@natradioco.com.
2L.B. Cebik, W4RNL, 1434 High Mesa Dr., Knoxville, TN 37938-4443, e-mail: cebik@utk.edu.
3This article originally appeared in the New England QRP Newsletter, edited by Dennis Marandos, K1LGQ.
4The American Radio Relay League, 225 Main St., Newington, CT 06111-1494, e-mail: hq@arrl.org.